What We Do
We are a community-based organization that contracts with managed care organizations, health insurance plans, and health systems. Our Care Transitions and Care Coordination programs are nationally recognized, and our Case Management for Long-Term Services and Supports program is accredited by NCQA.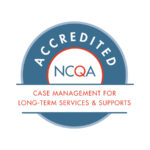 VAAACares
VAAACares® is a successful statewide one-stop-shop collaborative performing hospital-to-home interventions and providing services addressing social determinants of health (SDoH).
Services delivered in the home and community to address transportation issues, food insecurity, and social isolation, as well as programs to manage chronic disease, prevent falls, and more, are proven supports that maximize independence and allow older adults to age in place.
VAAACares® is headquartered at Bay Aging, a nonprofit 501(c)(3) Area Agency on Aging established in 1978. Bay Aging has extensive experience in care coordination and health screening, and pioneered care transitions in Virginia through the VAAACares® and EVCTP networks. Services include:
Evidence-Based Care Transitions Intervention/Readmission Reduction
 Fully Delegated Care Coordination
Medication Reconciliation with RN Review
Solutions to Improve STARS & HEDIS Measures
PCP Notification of Discharge and Unable to Reach (UTR) Outreach
Post Hospitalization (acute care) Assessments
Health Screenings and Assessments
Community Referrals—including meals, transportation assistance, housing assistance, mental health programs and other SDoH programs
Evidence-Based Prevention Programs including Chronic Disease Self-Management, Falls Prevention, and Diabetes Self-Management
Evidence-Based Caregiver Counseling Services (in partnership with Benjamin Rose Institute on Aging)
CMS Transitional Care Management (TCM) and Complex Case Management (CCM)
VAAACares® looks forward to partnering with you to improve the health of our communities, address social determinants of health, and provide services that people need to live independently in their chosen homes for as long as possible. For more information on how Bay Aging/VAAACares® can assist you in meeting your goals, email us or call (804) 758-2386.
The Value of Area Agencies on Aging

VAAACares® encompasses Virginia's 25 Area Agencies on Aging (AAA). AAAs are a valuable resource:
Over 40 years of in-home experience
Established relationships with hospitals, skilled and long-term care nursing facilities in every community in Virginia
Solutions that provide better health outcomes and address social determinants of health
Leveraging public and private resources for effective in-home services
Delivering support services to maximize community living options
Focusing on helping people remain in their homes and live independently in their communities for as long as possible