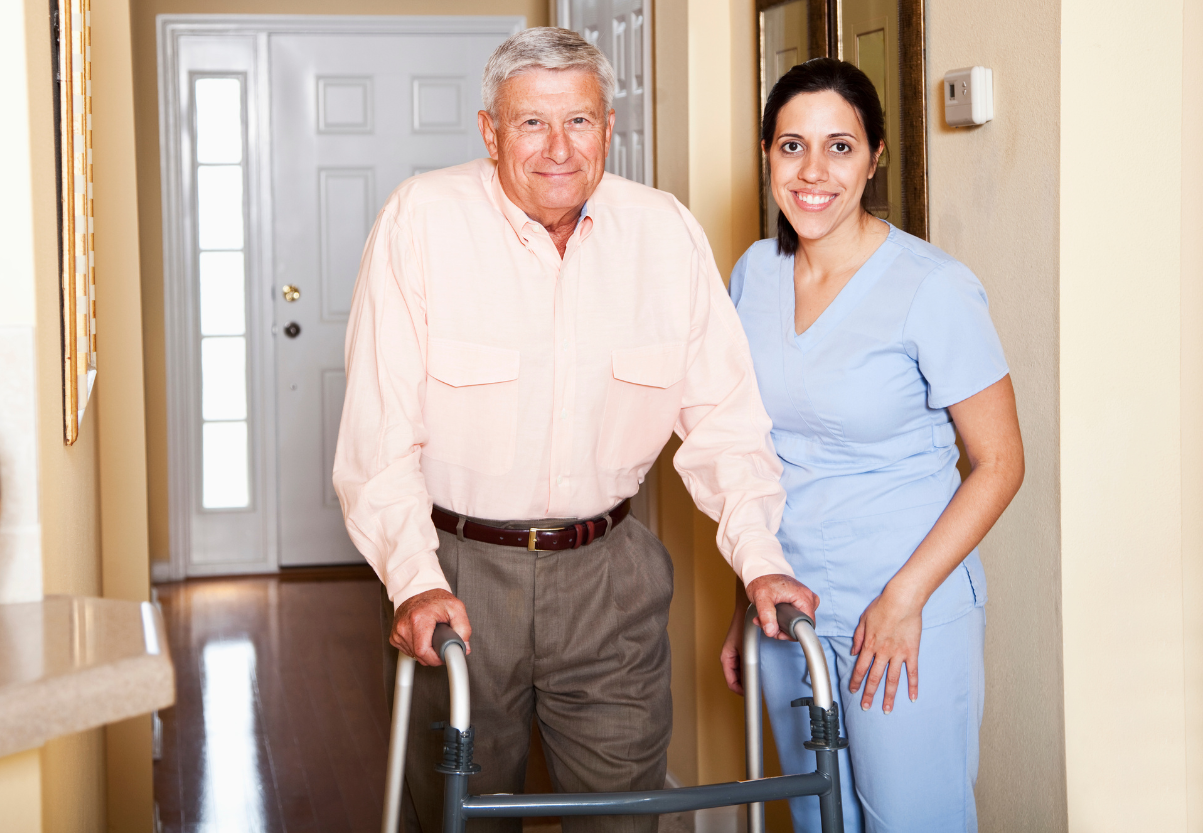 Services delivered in the home and community to address transportation issues, food insecurity, housing, and social isolation, as well as programs to manage chronic disease, prevent falls, and more, are proven supports that maximize independence and allow older adults to age in place.
Our staff members are trained and certified in the following evidence-based models of care and CMS solutions to improve STARS and HEDIS measures:

CTP® Care Transitions Program, Dr. Eric Coleman, University of Colorado
A 30-day intervention to instill confidence and engage patients to take charge of their own health. The purpose is to focus on patients and caregivers with multiple chronic conditions to avoid costly and unnecessary returns to the hospital for treatment. The model delivers education regarding chronic diseases, medication management, red flag identification, and the importance of primary or specialty care follow-up.
Chronic Disease and Diabetes Self-Management, Stanford University
A training model for patients with chronic health conditions or diabetes to deal with problems such as frustration, fatigue, pain, and isolation. Teaches appropriate exercises for maintaining and improving strength, flexibility, and endurance as well as the appropriate use of medications, proper nutrition, effective communication skills, how to evaluate new treatments, and develop good decision-making skills.
Healthy IDEAS (Identifying Depression, Empowering Activities for Seniors), Baylor University
A 90-day model to detect and address depression and anxiety in older adults with chronic health conditions and functional limitations. Utilizing the PHQ9 screening tool, this model assesses the severity of symptoms, educates about depression treatment and self-care, links patients to healthcare and mental health professionals if necessary, and helps patients engage in behavioral activation as they pursue personal and meaningful goals.
Mental Health First Aid®
Designed to teach lay people methods, knowledge, and skills to improve and respond to early-stage mental illness and mental health crisis. Methods encourage self-help and other support strategies.
Motivational Interviewing for Healthcare Professionals
A method that works to facilitate and engage intrinsic motivation within the patient in order to change behavior. Motivational Interviewing is a goal-oriented, patient-centered counseling style for eliciting behavior change by helping patients to explore and resolve ambivalence.
Matter of Balance
A fall prevention training that emphasizes practical coping strategies to reduce the fear of falling. Methods include increasing activity levels by promoting the view that falls are preventable, making small environmental changes, setting goals, and promoting exercise to increase strength and balance, thereby reducing risk factors.
Medication Reconciliation Post-Discharge (MRP) with RN Review
Performed and documented by an eligible professional, MRP is a valuable service to strengthen your organization's medication management process, including the importance of patient education, adherence, challenges that can increase risk, and the need to prioritize correct medication administration. Medications are often changed while a patient is hospitalized and continuity between inpatient and ongoing care is essential.
Home Meds
Addresses medication-related problems and errors that might endanger the lives and well-being of an aging population. Home Meds is an individualized in-home screening, assessment, and alert process to identify medication issues. The program includes computerized screening and a pharmacist review to help prevent falls, dizziness, confusion, and other medication-related problems for aging and living independently at home. (Pharmacist review has associated costs. Average review requires 20 minutes and 30-40% will require additional review.)
Virginia Options Counseling
Options counseling is a documented plan that contains an individual's goals along with action steps, resources needed, timelines, and responsible parties to achieve the goals. Options counseling is an interactive decision-support process whereby individuals, with support from family, caregivers, and/or significant others, are supported in their deliberations to make informed long-term support choices in the context of the individual's preferences, strengths, needs, values, and individual circumstances.
Advance Care Planning
Initiates communication between patients, their family, and their health care provider. Taking into consideration the patient's relationship and culture, which drive specific medical treatment decisions, the coach will facilitate a referral that can lead to the Advance Directive.
NCQA Accreditation
Bay Aging's Case Management for Long-Term Services and Supports (LTSS) program was awarded accreditation by the National Committee for Quality Assurance (NCQA), effective September 7, 2021. NCQA accreditation is the highest national recognition that can be achieved by community-based organizations that coordinate long-term services and supports. Earning NCQA's Accreditation of Case Management for LTSS demonstrates that an organization is dedicated to coordinating the delivery of care in a person-centered and integrated manner to help individuals function optimally in their preferred setting.
All member documentation will meet contractual requirements.

Documentation can be completed within MCO/insurer's care management software systems. Data and performance tracking also occur within a nationally recognized software system purchased by Bay Aging.
Members/patients are tracked monthly to ensure effectiveness of the program and meet specific performance standards established by the MCO/insurer/health system and VAAACares®.

VAAACares® delivers measurable results and positive member outcomes. We have a proven track record and our team is focused on achieving goals for you and your members.

VAAACares® is headquartered at Bay Aging, a nonprofit 501(c)(3) Area Agency on Aging established in 1978. Bay Aging has extensive experience in care coordination and health screening, and pioneered care transitions in Virginia through the VAAACares® network. Bay Aging's Case Management for Long-Term Services and Supports program is accredited by NCQA.
Get In Touch! Contact us at 1-804-758-2386