VAAACares is the statewide expansion of the Eastern Virginia Care Transitions Partnership. Endorsed by the Virginia Center for Health Innovation, VAAACares is an Area Agency on Aging collaboration to deliver services for insurers, health systems and other providers.
The VAAACares program serves as a one-stop shop for comprehensive care coordination, care transitions, and a host of other home and community based services that support the health and safety outcomes for Virginians with chronic health conditions and disabilities.
VAAACares services provide techniques that promote patient and caregiver engagement to take an active role in their health care. VAAACares facilitate new behaviors and self-management strategies that result in successful responses to common health problems that occur after transitions between health care settings. One major key to success is getting into the home! The places where people live, learn, work, and play, the choices made, and the opportunities they have all play a role in their physical, mental and social well-being. Only by going into the homes and learning more about the patients can we begin to execute meaningful plans of care that lead to successful recovery, reduced readmissions, lower healthcare costs, and improved communication between patients and their PCP's.
Three Root Cause Analysis (RCA) tools were utilized – Hospital Readmissions Review, Physician and Staff Expert Panel Review, and Consumer Focus Group Surveys.
The key findings of what contributed to readmissions included: end stage disease/co-morbidity, lack of patient compliance with discharge plans, medication mismanagement, lack of follow-up with the patient's primary care provider, and acuity of the patient. These findings were in accord with the Four Pillars of the Coleman Care Transitions Intervention® model, leading EVCTP to select this as the preferred model – supplemented with enhanced services.
Partner hospitals submit daily census to EVCTP for screening. Eligible participants are referred to Area Agencies on Aging for coaching – including a hospital visit, home visit, follow-up phone calls, and coordination of any enhanced services that improve the after hospital care of the patient.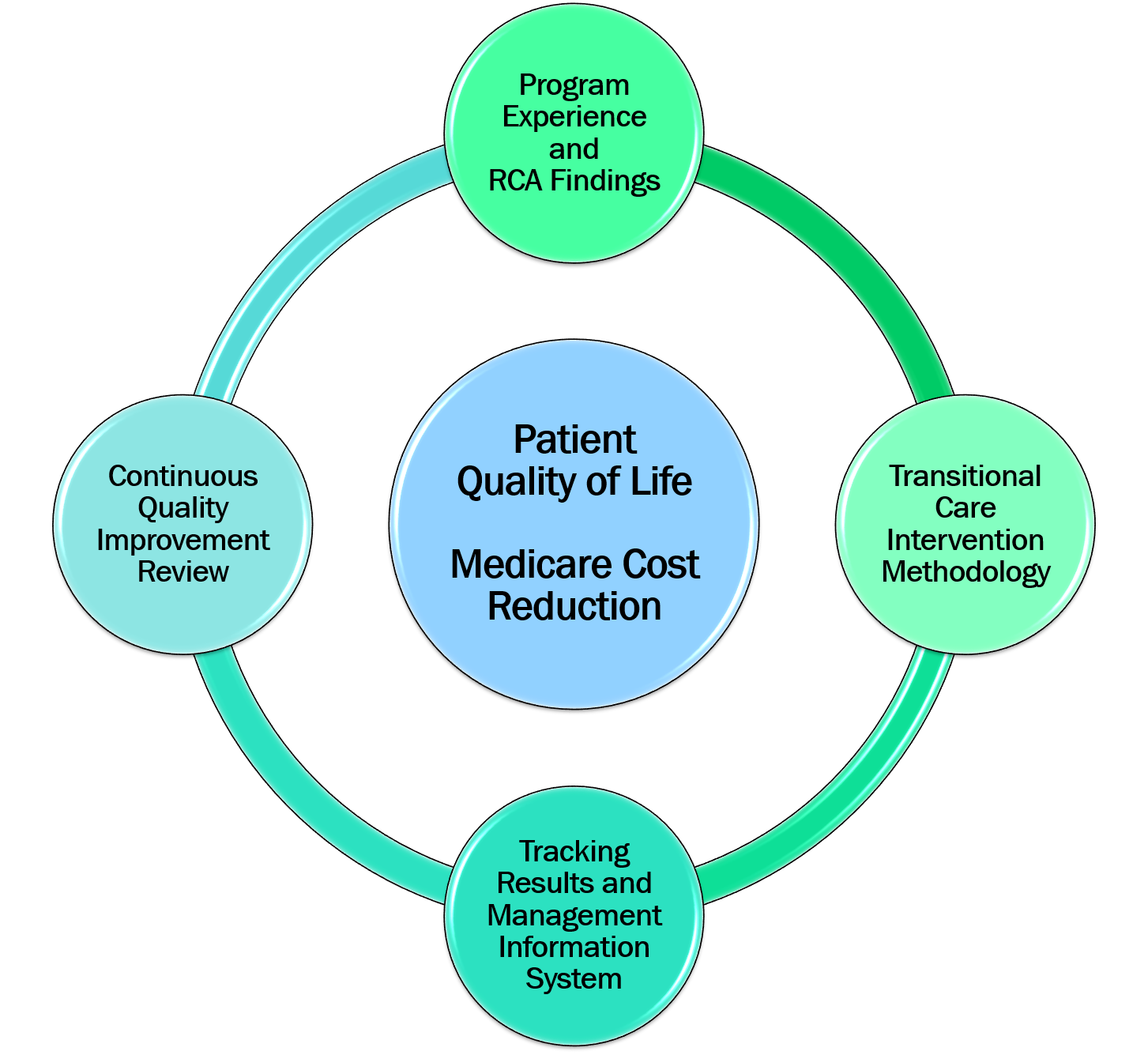 EVCTP Care Transitions Intervention (CTI) Performance for Chronically Ill Target Group
High-Risk Chronic Illnesses:
AMI, CHF, COPD, PNEU, Septicemia, Stroke, AFIB, Diabetes, Renal Failure
Demonstration Period:  February 2013 – January 2016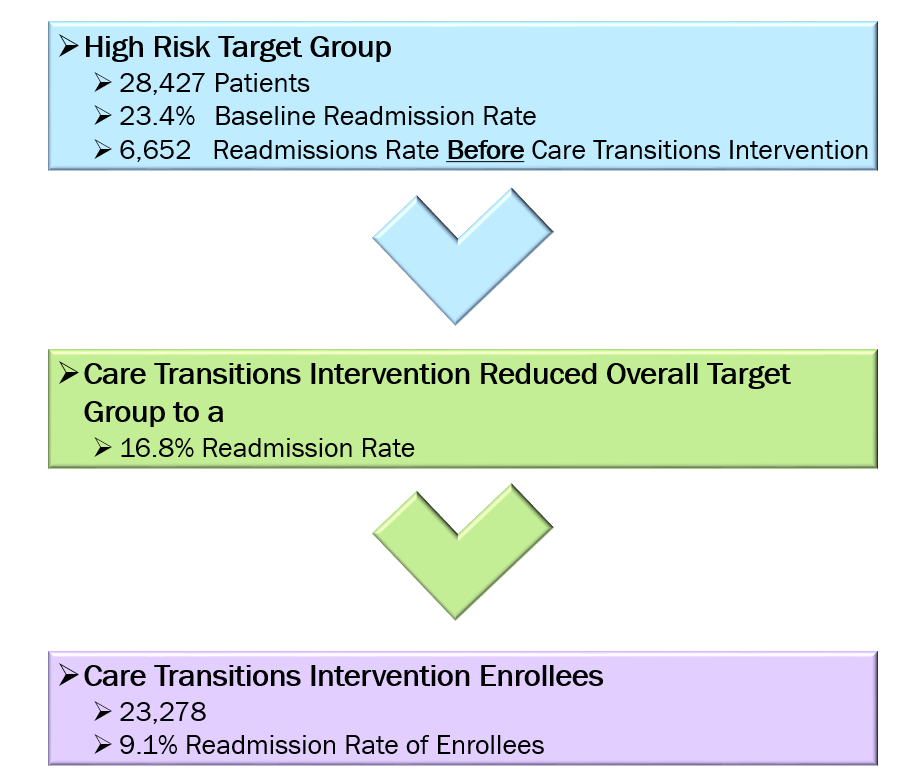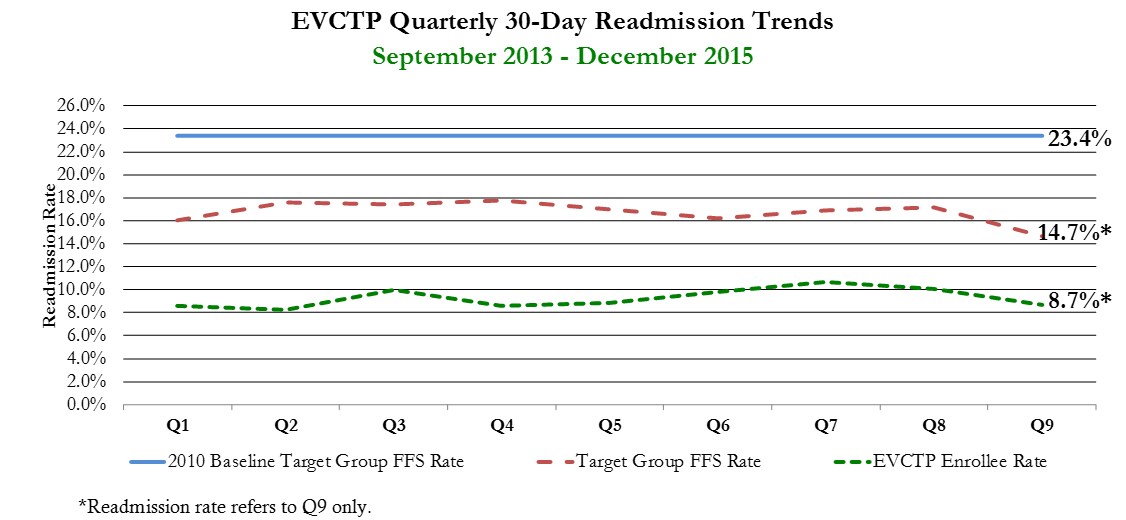 Patient Needs Met In-Home: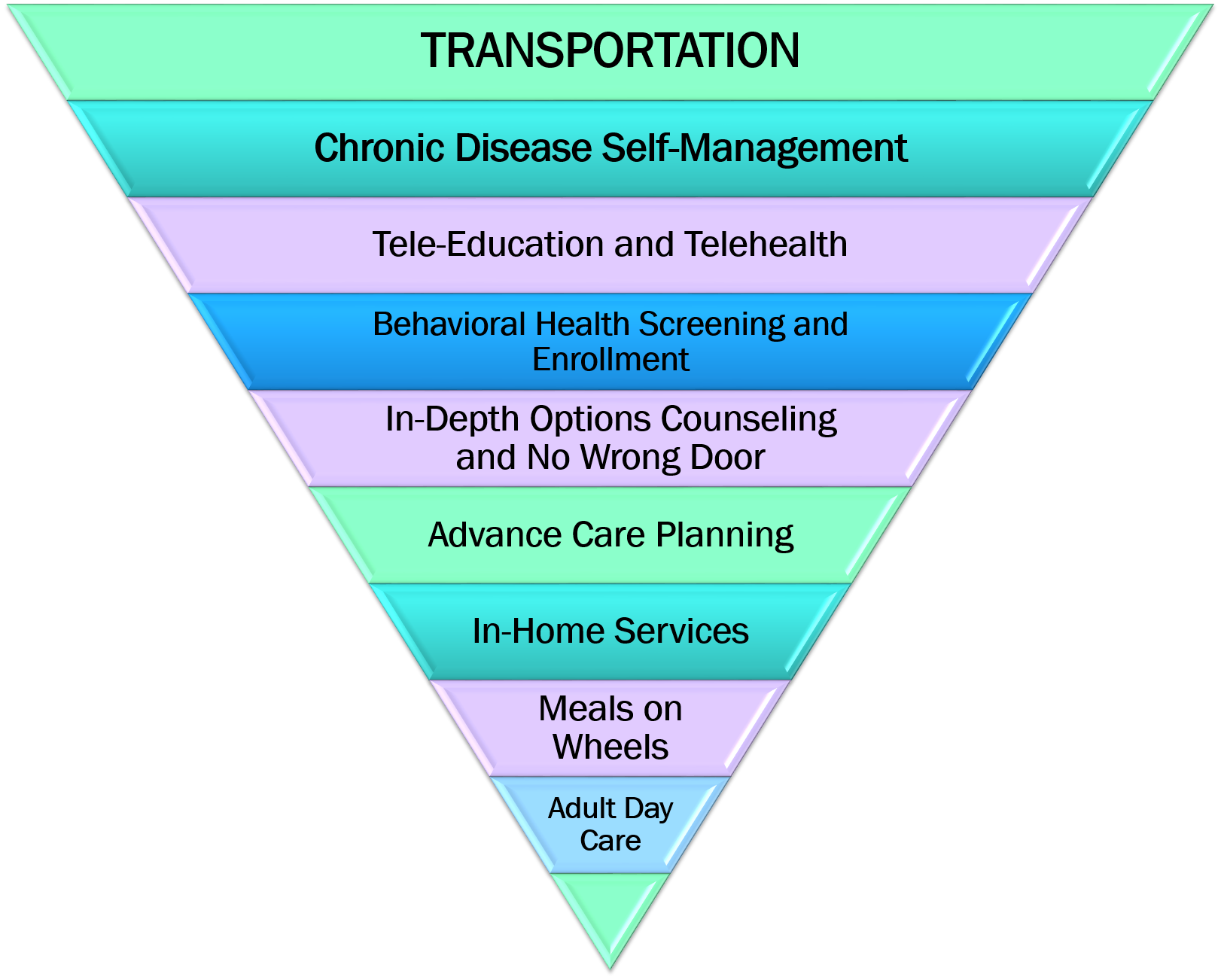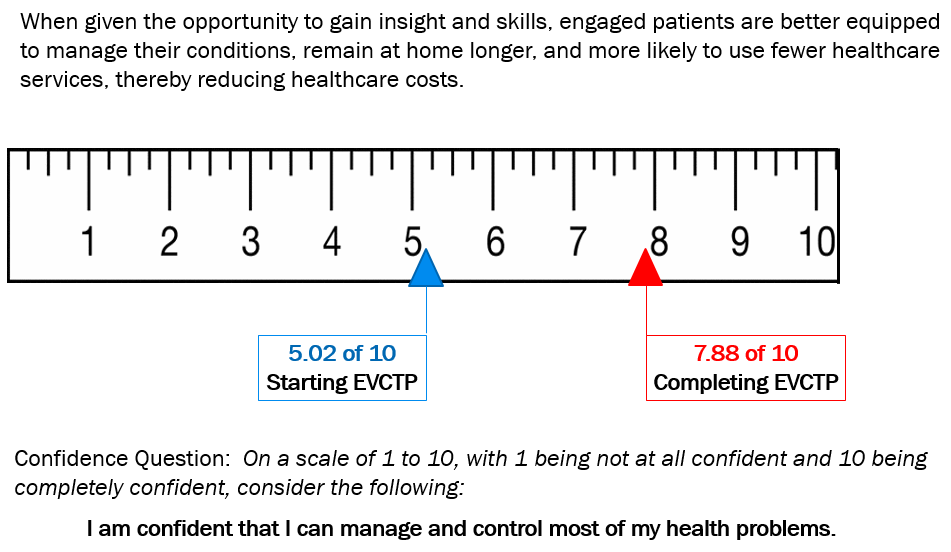 Since 2013 EVCTP successfully collaborated with acute care medical facilities and insurers to improve patient post discharge outcomes. Success led to the development of VAAACares, a statewide expansion to improve patient care and decrease acute care hospitalizations.
Data results illustrate the blend of Care Transitions, Care Coordination and Evidence-Based Prevention Education and Patient Empowerment is very effective for patients at-risk for        re-hospitalization by improving health and safety outcomes for Virginians with chronic health conditions and disabilities.
VAAACares utilizes the "blend of services" coupled with the expertise of Area Agencies on Aging. VAAACares has proven to be a highly successful model of patient-centered care.
Similar results experienced with Medicaid population.